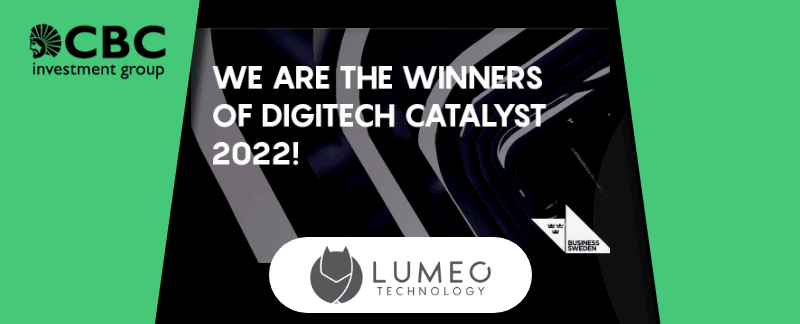 Business Sweden har utsett CBC-investeringen LumeoTech till Digitech Catalyst 2022. Titeln delas varje år ut till det bolag i programmet som Business Sweden anser har störst möjligheter att skala upp sin affärsidé till en global nivå.
"The Catalyst Program will help us accelerate our international expansion and sales […] More people across the globe will be able to buy products off the shelves and attach them with our technology faster", skriver LumeoTech.
Catalyst är Business Swedens scale up-program för Sveriges mest innovativa och lovande företag. De bolag som klarar sig igenom urvalsprocessen får en kraftfull språngbräda mot internationell tillväxt – inklusive skräddarsytt kommersialiseringsstöd, rådgivning och coachning på en utvald marknad. LumeoTech utnämndes till årets vinnare tillsammans med Interspectral och Sensative.
"The Catalyst Program will help the three companies to accelerate their international expansion and sales, thus expanding their footprints in the DigiTech space […] Big congratulations to the winners and we look forward to supporting them in their global expansion", skriver Business Sweden.
---
Lumeo Technology AB är ett svenskt bolag sprunget ur Chalmers Ventures och Sony Startup Accelerator med säte i Göteborg. Bolaget revolutionerar fästtekniken och möjliggör en oöverträffad frihet för användare som är direkt applicerbar på en mycket stor marknad för flera industrier, samt helt nya segment. Tekniken är kommersialiserad med godkänt patent i Sverige och internationell prioritet via PCT.