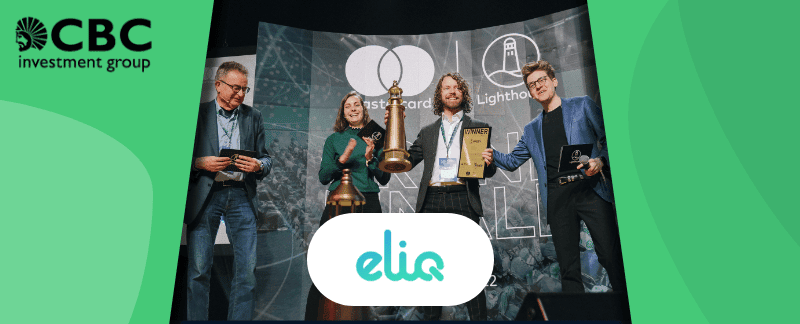 CBC-bolaget Eliq tog hem segern i Mastercards innovationsprojekt och partnerskapsprogram Lighthouse. Programmet pågick i tre månader och bestod av bland annat workshops tillsammans med representanter från Swedbank, Danske Bank, UNDP, VNTR, Nordic Impact Funds och Synch.
"Eliq showed an impressive partnership readiness with various organizations and towards the partner banks in the program", säger Lighthouse Massiv Program Advisors i ett pressmeddelande, som motivering till Eliqs vinst.
Eliq deltog I Mastercards parnterskapsprogram med syfte att stärka bolagets erbjudande gentemot banksektorn, eftersom den europeiska banksektorn påskyndar den gröna omställningen. Enligt Eliq spelar finansiella institutioner en nyckelroll i att låsa upp energiomställningen för konsumenter.
"Winning the Mastercard Lighthouse MASSIV program means a lot to us at Eliq. The program has helped us to better understand the scale of the opportunity we have in the retail banking sector and has enabled us make valuable connections and form partnerships within the industry", säger Håkan Ludvigson, vd Eliq, i ett pressmeddelande.
Under partnerprogrammet introducerades Eliq för åtta banker och inledde dialoger om sju potentiella nya partnerskap. Eliq matchades dessutom med fyra investerare under Mastercard Lighthouse Investor Demo Days som visade intresse för bolagets nästa investeringsrunda.
"In order for all of us to play a role in the green transition, we each need to find the way we can best contribute — and the companies participating in Lighthouse MASSIV have certainly found their path. It is inspiring to witness the way in which these companies help us reduce our individual carbon footprint, enable fair economic growth, and socially just development. They are much needed lighthouses, outlining the necessary trajectory towards the green transition. It is important that we support and celebrate these impact scaleups to inspire other companies to join the movement of impact tech innovation in order to reach the SDGs and Paris Agreement", säger Stine Kirstein Junge, Global Head of SDG Accelerator and Private Sector Advisor at UNDP, i pressmeddelandet.
---
CBC-investeringen och SaaS-bolaget Eliq har utvecklat en produkt som med hjälp av en speciell sensorteknik erbjuder rådgivning, övervakning och automatisering av energiåtgången i våra hem i realtid. De möjliggör även integration med smarta hem lösningar för ett bekvämare och säkrare hem avseende sensorer, kameror, automatisering av ljus, ljud, uppspelningsenheter, köks- och badrumsutrustning med mera. Eliq har 2 miljoner slutanvändare hos 20 energibolag i 9 länder.